On 15th November, immediately prior to a meeting of the All-Party Parliamentary Group on West Papua, a parliamentary debate on West Papua took place in the House of Lords, initiated by The Rt Rev. the Lord, Harries of Pentregarth, co-founder of the International Parliamentarians for West Papua (and co-chair of the APPG).
A full transcript of the debate can be read here and the footage can be watched below.
Lord Harries first question to the House was,
"To ask Her Majesty's Government what assessment they have made of the petition presented to the United Nations by the people of West Papua requesting that the United Nations carry out its 1962 commitment to let the West Papuan people exercise the right of self-determination".
While the Minister of State, Foreign and Commonwealth Office (Lord Ahmad of Wimbledon) replied that the British government had not yet received a copy of the petition, Lord Harries asked,
"I thank the Minister for his Answer, but does he agree that this petition was truly remarkable? It was signed by 1,804,421 people inside the country, 95.77% being indigenous West Papuans and 4.33% Indonesian transmigrants. The estimated 1,708,167 signatures by indigenous West Papuans represents 70.88% of the population. Is this not truly remarkable? Is it not a startling contrast to what happened in 1969 when, after the occupation of West Papua, Indonesia hand-picked only 1,026 people and forced them at gunpoint to declare support for Indonesian rule?"
In the minister's reply, Lord Ahmad stated, "As for the situation in Papua, particularly West Papua, The United Kingdom continues to seek to ensure that all rights, including those of media reporting, are upheld".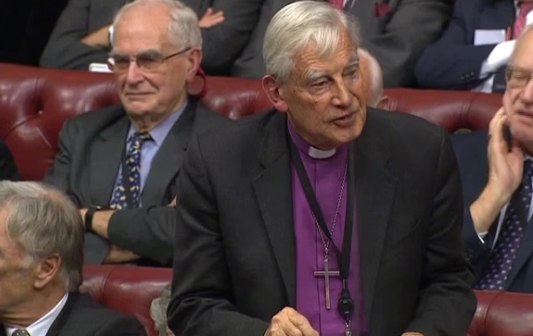 Four other Lords also joined in the debate, and voiced their concern about and support for, various human rights and issues in West Papua.
Lord Collins of Highbury
Lord Dholakia
Lord Hannay of Chiswick
Lord Lea of Crondall
IPWP would like to commend all parliamentarians who took part in this highly important and productive debate which went a considerable way in raising parliamentary awareness and concern about West Papua, particularly concerning the West Papuan people's fundamental right and desire to self-determination, as expressed in the petition. It marks another important step on the journey towards international parliamentary recognition of the West Papuan people's right to self-determination. IPWP sends its full gratitude, thanks and encouragement to the Lords for their continued commitment to speaking up for this fundamental right.