PORT MORESBY: National Capital District Governor, Honourable Powes Parkop is renewing his call on PNG Government to review its position on West Papua and support a legally-supervised referendum for the local Papuans to decide whether they still want to be integrated with Republic of Indonesia or become an independent State.
His call comes amidst the escalation of conflict ten days ago in Papua province which was sparked off by the jungle-camp killing of 16 labourers whom West Papua National Liberation Army claimed as soldiers.
"Only a properly supervised and legally conducted referendum in accordance with international law will solve this crisis or issue. Any other decision or approach will only prolong the problem and suffering of the Papuan people."
The former Dutch colony, rich in natural resources, declared itself independent in 1961, but Indonesia assumed its control in 1963 on the condition that it was to conduct a referendum on their desire for independence.
It was annexed six years later through a United Nations-backed vote that was popularly seen as fraudulent and fake.
"The campaign for self-determination won't stop. Indonesia will never win the war of hearts and mind. They might win some battles, but will still lose the war. Sooner, they and PNG will come to terms with this fact the better it will be for all."
"The spirit of independence will never die because the vote in 1969 was never conducted on the basis of universal suffrage and in accordance with the law. As long as Indonesia does not do anything about that the flames of independence, it will escalate beyond their control," Mr Parkop warned.
He said: "We will be on the right side of history in supporting the call for self-determination because that's the only way to resolve this matter."
"If a properly-supervised vote was conducted now and the Papuans decided by majority to stay back as an integral part of the Republic of Indonesia, I would respect it. Right now no matter what PNG and Indonesia's positions are, it won't solve the problem! The only solution is proper legally-held referendum."
APPROVED FOR RELEASE
……………………………….
Honourable Powes Parkop, LLB, LLM, MP
Governor-National Capital District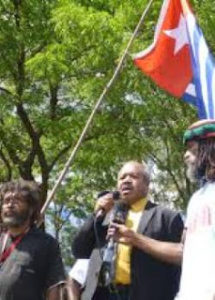 Papua New Guinea's National Capital District Governor Powes Parkop, delivering a speech in support of his Melanesian neighbours in West Papua last September 2018.