Statement by His Excellency Samuela 'Akilisi Pohiva, Prime Minister, Minister for Foreign Affairs and Trade and Minister for Education and Training of the Kingdom of Tonga, at the general debate of the 70th Session of the General Assembly of the UN, (New York, 28 September -3 October 2015).
Taking centre stage at the United Nations General Assembly, the Tongan Prime Minister has urged the world to take action on the human rights situation in Indonesia's West Papua region.
Elements of the ethnic Melanesian population in West Papua are struggling for independence.
But Indonesia's reaction to their push for autonomy has sparked international concern about human rights abuses by military forces.
Tonga's Prime Minister Akilisi Pohiva told the UN general assembly that the world community has a moral obligation to get involved.
"United Nations has a duty to closely follow up this West Papua case and necessary action be taken to stop these brutal and inhumane activities."
http://www.radionz.co.nz/international/pacific-news/285742/tonga's-pm-highlights-papua-issue-at-un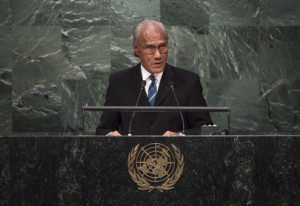 Watch the full Statement here.
http://webtv.un.org/topics-issues/specialized-agencies/watch/tonga-general-debate-70th-session/4519086422001
ABC Australia.
http://www.abc.net.au/news/2015-10-01/tongas-prime-minister-calls-on-un-to-take-action/6819996