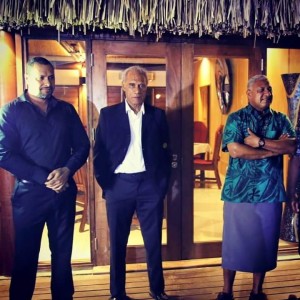 I am proud and humbled…early last year I traveled to Fiji to present a case on West Papua. I spoke to several leaders and one was Hon. Akilisi Pohiva, the Prime Minister of Tonga. A true leader and a compassionate man. He assured me Tonga would not forget West Papua. Today I am informed of his presentation at the UN and his mention of West Papua.
He has kept his word. I salute you Sir! You are worthy of being called a leader!
I was sent his statement in its entire form and I am humbled. Step by step. Every effort we make brings our people closer to freedom.
Here is his statement:
30th September 2015, UN General Assembly, New York
TONGA DOES NOT CONDONE THE INJUSTICE, CRUEL VIOLATION OF HUMAN RIGHTS & DIGNITY AND BRUTAL TREATMENTS AROUND THE WORLD ESPECIALLY IN WEST PAPUA IN THE PACIFIC REGION!
Tonga Prime Minister, 'Akilisi Pohiva, during his statement at the UN General Assembly yesterday Tuesday 29th September 2015, in New York, said that he was humbled by the speech of Pope Francis in which he directly spoke to the Leaders of the United Nations during the opening of the UN General Assembly on Monday 28th September 2015 in New York about the political issues around the world. Pohiva said that His Holiness spoke in a language higher than that of politics, i.e. one of morality and of moral imperative and these were principles and ideals that have guided him throughout his life.
Pohiva also strongly emphasized that this was a call from His Holiness to all of them Leaders to work together against the injustice, cruel violation of human rights and dignity around the world especialy in West Papua in the Pacific where brutal treatment is currently happening. Pohiva called on the UN to take actions, as necessary, to assist West Papua as it is within their powers.